Obtaining accurate feedback from other agents is crucial in the listing process.  To position your property correctly in the current market, we might recommend using pre-marketing techniques in order to obtain valuable feedback from other agents prior to formulating a concrete marketing strategy.  This may involve broker opens and utilizing off-MLS marketing resources such as the EXPRealty.com internal application and the PWR network which is only available to the top 10% of agents citywide.

Once hitting the market, showing agents provide feedback that can help in addressing any deficiencies potential buyers are noticing and re-position the property if necessary.  We obtain feedback in a variety of ways, however, the most common is a short drop down form seen below.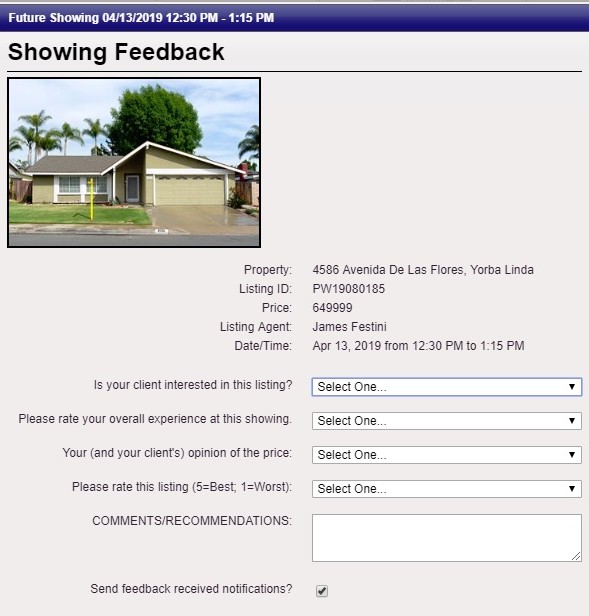 I Will Personally Call And Track Down, If Necessary, Each Agent That Shows Your Home So I Can Have A Conversation With Them Regarding Your Listing.  I Find That Even A Brief Conversation Can Provide More Useful And Tailored Feedback Than The Method Above.  This Feedback Will Then Be Delivered To You For Consideration.
.
Would you like more information?
View my objectives when listing your home HERE.
I use the most advanced marketing techniques available when selling a home.  Please view everything I include with each listing HERE.
It is important to approach each show with a game plan.  View the strategies I use HERE.
Read my blog about real estate and Orange County, updated regularly, HERE.
Please contact me at 714-767-5524, or by filling out the form below for a complimentary consultation at your home.